Dermal fillers are the primary option for reducing creases and delicate lines, revitalizing skin, and achieving a youthful look. They are administered directly below a wrinkle or fold to replenish the depression area it creates in the skin.
Dermal fillers contain hyaluronic acid, a vital substance found naturally in all skin types. Hyaluronic acid plays a crucial part in preserving the suppleness and hydration necessary for maintaining smooth and uplifted skin. However, as we age, the amount of HA present decreases over time.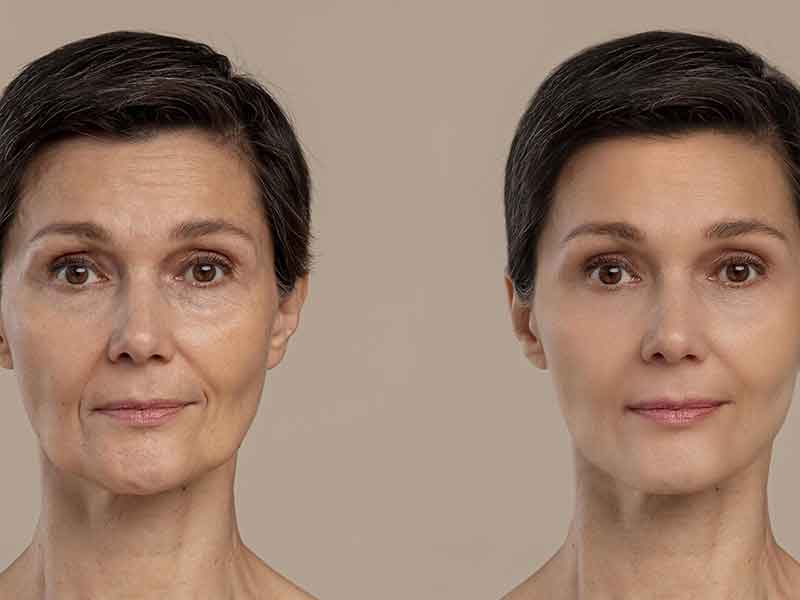 Dermal fillers are fast-acting injectable procedures that can reduce the appearance of facial wrinkles and lines and address depression areas, resulting in a more youthful complexion with revived contours.
Why do people have dermal fillers?
Enhance shallow contours and add volume
Soften facial lines and wrinkles
Soften facial lines and wrinkles
Improve the appearance of recessed scars
Reconstruct contour deformities in the face
Decrease or remove the shadow of the lower lids or 'tear troughs'
What are the benefits of Dermal Fillers?
Dermal fillers can be administered in a quick 10 to 15 minutes, and there is no necessity for general anesthesia, allowing you to leave the clinic immediately. There is zero recovery time needed; therefore, once you have received your fillers, you are able to resume work and your regular daily routines while adhering to the aftercare guidelines provided by Dr. Manal Younis.
The treatment produces fast results.
The results look natural and can be so subtle that it will not be obvious that you have had fillers.
There are no scars left behind.
Dermal Fillers can stimulate natural collagen and elastin production, which are vital to maintaining plump, youthful skin.
Dermal Fillers can be used for:
Jaw Augmentation
Your content goes here. Edit or remove this text inline or in the module Content settings. You can also style every aspect of this content in the module Design settings and even apply custom CSS to this text in the module Advanced settings.
Cheek Augmentation or Liquid Facelift
Dermal fillers have the capability to be applied to the cheek region to gently enhance cheekbones and replenish volume during a liquid facelift.
Chin Augmentation
Dermal fillers can be utilized to enhance the look of a weakly outlined, not adequately projected chin in the chin region.
Non-invasive Rhinoplasty
A non-invasive alternative for individuals who prefer not to undergo surgery is available in the form of nose reshaping. This procedure has the option to be paired with antiwrinkle injections, which can elevate the nasal tip.
Lip Augmentation
One of the most favored methods is outlining the edges, improving clarity or adding volume to the lips to increase their size and create a fuller appearance. It can be used in conjunction with wrinkle-reducing injections to minimize fine lines caused by smoking, smokers' lines.
Aesthetics for Men
To achieve a revitalized yet manly look, dermal fillers can be combined with other anti-aging procedures to enhance facial features (such as chins and jawlines), address under-eye bags, and diminish genetic aging, sun damage, and the effects of smoking.
Nasolabial Folds and Marionette Lines
Often referred to as the "smile" or "laughter" lines, these are a pair of skin creases that extend from both sides of the nose to the ends of the mouth. Whether cheek fillers are utilized or not, it is possible to reduce the visibility of these wrinkles to achieve a more youthful look.
Tear Troughs
The appearance of aging eyes can be attributed to various factors, such as decreased volume, diminished elasticity of tissues, or even a slight decrease in bone density. To achieve youthful-looking eyes, dermal fillers can be applied directly in the tear trough area or around the eye. This procedure helps brighten and rejuvenate the eyes by replenishing lost volume and restoring elasticity. Combining this treatment with mesotherapy or bio-rejuvenating injections is possible for enhanced results.
Hand Rejuvenation
Hand rejuvenation with dermal fillers is a minimally invasive plastic surgery procedure to correct volume loss in the hands.
The optimal candidate for hand rejuvenation using dermal fillers is generally in good overall physical condition and does not smoke. The utilization of dermal fillers for hand rejuvenation is discouraged for individuals who smoke or have hypersensitivities to any component in the injectable fillers.
G-shot For G Spot
The G-shot, also called G-Spot Amplification, involves an injection that enlarges and enhances the sensitivity of the G-spot. This leads to heightened sexual pleasure, facilitating more intense vaginal orgasms and making them easier to achieve. To strengthen overall sexual experiences, g-spot amplification can be combined with other rejuvenation procedures or injections targeting erogenous zones such as the clitoris and vagina (known as O-shots). The injection consists of hyaluronic acids, like those used for plumping lips and reducing wrinkles in cosmetic treatments. It typically needs repeating every three to five months for optimal results.
Book Your Consultation Today